News
a1qa wins a Silver Award at the Industry Eagles Awards 2023
The judges of the Industry Eagles Awards announced the winners. a1qa received a Silver Award in the IT Project of the Year category.
26 May 2023
From finalists to silver winners! a1qa is a Silver Award Winner in the IT Project of the Year category at the Industry Eagles Awards 2023.
Industry Eagles Awards acknowledges companies' excellence in a range of industries, including information technology, financial services, real estate & property, to name a few.
The program judges — multi-year experts from global organizations, like Microsoft, Cisco, Mitsubishi Power Americas — blindly assess businesses and score them based on 5 parameters: entrants' expertise in the field, quality of services delivered, innovation, effectiveness, and creativity.
a1qa received a Silver Award thanks to a project delivered for a UK-based client. a1qa's team aided the customer to release a flawless multi-functional web portal and native mobile software by building QA processes from scratch and introducing shift-left testing. In addition, QA engineers conducted a variety of tests: usability, compatibility, regression, API, mobile app, and others.
With a1qa's support, the client:
Reached a 1.4X decrease in bugs found in production
Increased the number of handled users from 1 to 45
Boosted the amount of processed requests from 400 to 46,000.
Vitaly Prus, Head of testing department at a1qa, expressed his opinion: "To gain clients' loyalty and keep up with the increasing market competition, businesses introduce quality assurance and supplement it with innovative approaches, like shift-left or continuous testing. This enables fast and successful software releases and helps prevent costly defect fixing in the production environment.
With multi-year experience in Agile approaches, process maturity, and vast industry-specific expertise, we helped the client reach desired business goals. We're glad that our dedication and hard work is highly appreciated by independent judges of the Industry Eagles Awards."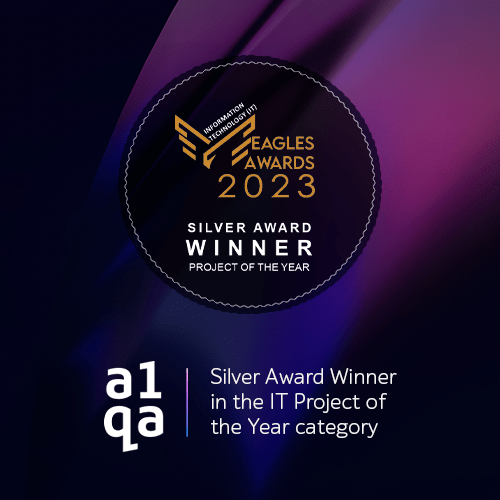 Facing quality-related concerns when developing software products or want to know more about how QA can optimize your business? Contact a1qa's team and get professional support.