News
Discover how to optimize a QA budget over a1qa's virtual roundtable
Let's meet at the 8th a1qa roundtable, where participants will discuss QA costs and ways to optimize them.
4 November 2022
It's already a long-standing tradition: a new month ― a new a1qa virtual roundtable! This time the discussion will take place on November 10 at 4 PM GMT+1 and touch on a topical issue "How to release a quality software product within a limited budget?"
Budgetary limitations can be a hindrance to releasing top-quality software to the IT market, right? However, are there any ways to optimize QA expenses and still maintain a competitive edge? Let's find it out during our talk and go over the following topics:
1. How to map software quality expectations to a QA strategy?
What software testing approach to cherry-pick to achieve the desired business goals? How to ensure fulfilment of all the client's needs? Why is it mission-critical to clearly formulate the requirements for the IT product? What are the key factors businesses should consider to ensure the highest possible quality with a strict financial limit?
2. How to optimize a QA budget?
Let's talk about best practices for streamlining the QA costs and how it assists in reaching the required IT solution quality.
3. How to prevent risks connected with a QA budget?
What risks do companies face in this regard? What steps help manage these concerns? How can risks affect the QA expenditure if not prepared for them?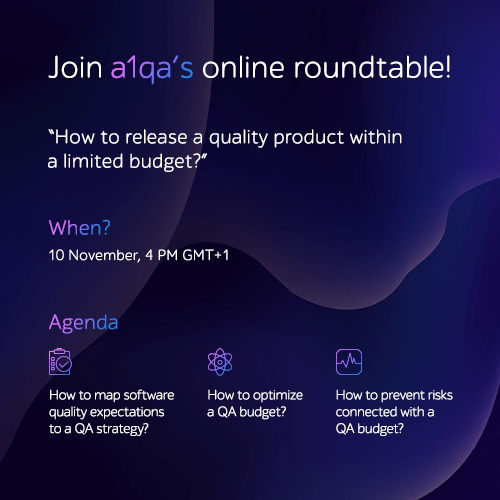 Welcome to register and join the roundtable participants!
In case you want to explore more on optimizing a QA budget, contact a1qa's team.