News
Discuss the value of independent QA at a1qa's virtual roundtable!
One more a1qa's roundtable is coming soon! Get ready to join.
18 February 2022
Great news! On 23 February at 4 PM UTC+4, a1qa is conducting the online roundtable "Independent QA: is it worth it?" to discuss the benefits companies achieve with unbiased quality assurance.
a1qa's experts — Kate Bazyleva, Head of pre-sales, and Marina Selyuzhitskaya, Account manager, are moderating the event. Saleem Almarzooqi, Managing director, MEA region, at a1qa, is joining attendees to share his multi-year professional background in tech.
The agenda will cover 3 topics:
The value of QA: What? Why? When?
Unbiased QA vs. QA as a part of software development: Will the outcomes be the same?
How to get confident in the quality of a third-party developed software solution?
Along the first part, we'll discuss the impact QA has on project's scope, deadlines, and budget.
Next, we'll explore who is the last to be responsible for software quality (while being a joint effort). Can the developer be a good QA engineer and cover core aspects (usability, performance, security, etc.)? And what to choose: let the internal QA department ensure high quality or reach out to independent QA specialists to get a fresh view on it?
Then, we'll move on to the last part and speak about the ways to make sure you really get what you paid for. And what is more critical: being a subject-matter expert or being the one to compare the technical task with the result?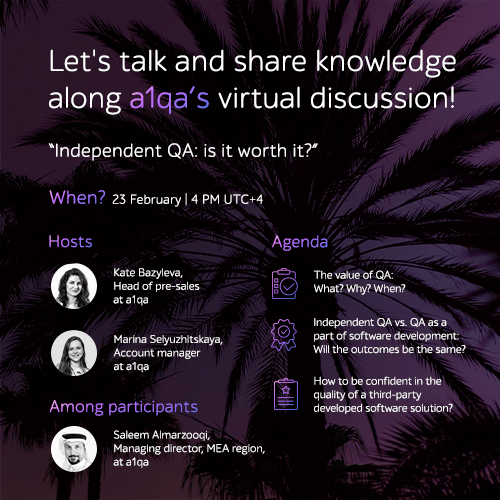 Feel free to register for the upcoming online event!