News
2021 Global Outsourcing 100 list: a1qa becomes All Star company
Independent outsourcing experts have shared their analysis of the top 100 industry representatives. a1qa received all stars on the list and entered the Information/Communications Technology sub-list.
20 May 2021
The International Association of Outsourcing Professionals (IAOP) has shared the results of their global annual survey of the outsourcing industry ― a traditional GO100 (Global Outsourcing 100) list. It includes companies that have demonstrated notable results in each of the four categories. a1qa entered 2 sub-lists simultaneously: All Stars and Information/Communications Technology.
By representing a hundred of the best service providers operating across the outsourcing industry, the companies can choose the right partner to suit their needs. a1qa has received high marks from IAOP judges on each of the parameters: programs for corporate social responsibility and innovation, awards/certifications, customer references.
By showing these results in each of the four areas, a1qa became an All Stars company on the list as well as making it to the Information/Communications Technology sub-list and entered the Rising Star judging size group.

This piece of news added to the total of other events of the year. Namely, Forrester analysts have named a1qa among the leading continuous automation and testing services providers of Q1 2021; a1qa also was one of the finalists of the North American Software Testing Awards.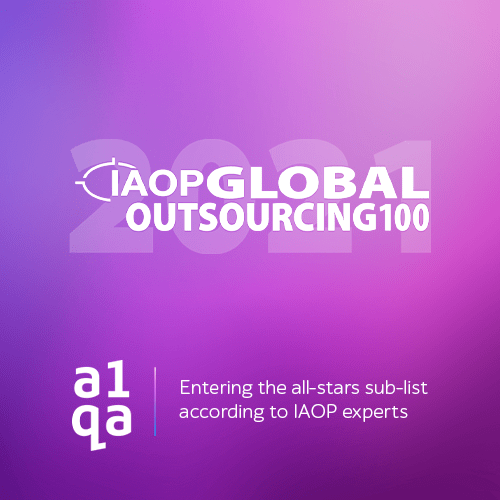 Feel free to contact us as soon as you need QA support.