News
Get a fresh look at building a QA team through a1qa's virtual discussion
a1qa's online discussions to QA are going on. This time, we're talking about a QA dream team and the ways to make it happen right here, right now.
19 May 2022
The series of a1qa's roundtables continues. On 7 June at 5 PM GMT+1, a1qa is holding the one on the topic "QA dream team: how to make it happen?"
If you are thinking about the QA teams working remotely from anywhere, specialists being multi-skilled, the ways to empower quality culture, and asking yourself: "Is it okay?", then you've reached the right place. Kate Bazyleva, Head of pre-sales at a1qa, and Valena Volkova, Marketing events lead/Relationship management at a1qa are moderating the inner roundtable conversation to help you exchange knowledge and discuss everything about building a QA team that meets business needs.
And the agenda is…
1. Is it worth returning to the office?
Talking about the advantages of remote work, the ways to onboard a QA dream team correctly given the WFH mode, and the impact of location on a crew.
2. Cross-functional (T-shaped) vs. specialized (I-shaped) teams: Is there a win-win approach?
Discussing the risks of engaging only T- or I-shaped teams, speaking about which approach is better for different projects and why so.
3. Skillset matters: What does an ideal profile of a QA director look like?
We'll talk about the role of QA directors for the company and departments, should they be motivators or supervisors, and which set of skills is more critical for them — technical or managerial?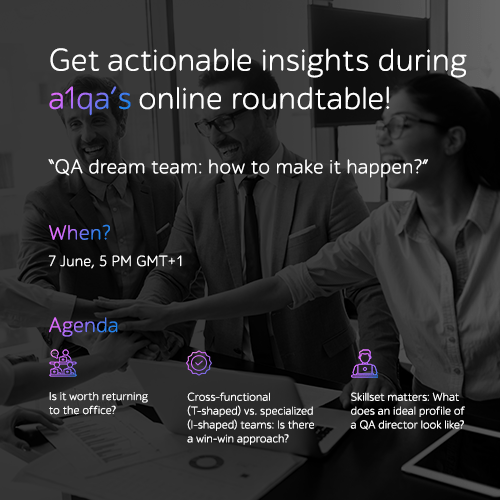 Welcome to register for the forthcoming online roundtable!