News
Acronis Global Cyber Summit 2020: how it was
Taking part in a global business conference, a1qa's team discussed novel QA approaches to address today's data protection challenges.
27 October 2020
The Acronis Global Cyber Summit 2020, a major virtual event focused on data protection and cybersecurity, has finished. There, a1qa's representatives shared expertise with the colleagues alongside expanded the knowledge of innovative solutions to overcome information privacy challenges. We are excited to share our reflections from the conference.
Three days of informative panels and interactive sessions were dedicated to analyzing topical dimensions like secure digital transformation, third-party risks for managed service providers, the future of cyber protection and ways to preparing organizations for the upcoming threats, cloud automation, and many more.
Alex Pechinsky, a QA consulting group expert and pre-sales manager at a1qa, also gave a pitch on the next-gen QA services contributing to delivering innovations at pace.
"I was delighted to represent a1qa at the Acronis Global Cyber Summit 2020 as a speaker. Apart from staying on top of industry development, I hope to have brought the gravity of next-gen QA in the rapidly changing IT market," told Alex.
Moreover, a1qa's expert took part in the "Anatomy of a Provisioning Automation Integration" workshop, where he talked over dodging cyber incidents through innovative approaches.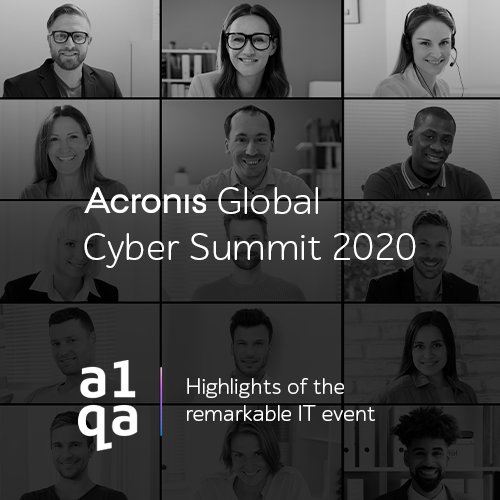 We were glad to exchange our insights on software testing with the IT peers, discuss QA-related questions with them, and share the success stories of propelling innovative QA solutions to surmount high-tech hindrances.
Would you like to learn more about the next-generation QA services? Reach out to us to talk to a1qa's experts.