News
Meet a1qa at Arab Health 2023 and explore the ways to boost your eHealth products quality!
a1qa is on the way to Arab Health 2023 to highlight the importance of QA for eHealth products.
20 January 2023
Every year, a1qa attends an array of tech exhibitions to discover the latest IT innovations and raise the awareness of QA for modern, sophisticated software. And the first a1qa stop in 2023 is Arab Health 2023, held in Dubai from 30 January ‒ 2 February, where we'll talk about the paramount role of quality assurance for eHealth solutions.
Arab Health is the leading healthcare exhibition where organizations showcase cutting-edge technologies, helping revolutionize the industry. Why is this actual nowadays? Modern eHealth software collects a lot of confidential data, controls drug dosages, and provides real-time monitoring of high-risk patients' conditions. As even one minor mistake may lead to severe consequences, it's crucial to ensure it functions without any disruptions.
The a1qa team will attend the event to gain insightful knowledge on top-notch medical technologies and exchange best QA practices with IT executives, helping produce high-performing and attack-resistant products.
You'll have a wonderful opportunity to talk with Alex Tihonovich, Regional manager, MEA, who possesses 6 years of experience in SQA and is responsible for designing test automation approaches and suggesting methods to implement them smoothly. And Saleem Almarzooqi, Managing director at MEA region and former senior VP of digital transformation and technology innovation. Now, he serves clients in delivering innovative IT solutions on time and within budget through adopting Agile processes.
Don't miss the opportunity to meet them at Arab Health and discuss QA-related issues regarding your medical products!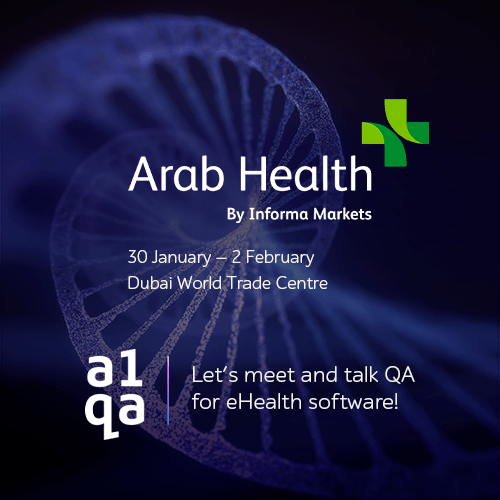 In case you'd like to book a personal talk in advance, write directly to Alex.