News
Meet a1qa's team at GITEX Global 2022!
The biggest annual event is back, and a1qa's team will be there to talk QA with forward-looking companies.
29 September 2022
We are happy to share with you our recent plans ― a1qa's team is going to GITEX Global 2022! The a1qa crew, including Dima Tish, VP of global business development, Saleem Almarzooqi, Managing director at the MEA region, Vitaly Prus, Head of testing department, and other QA experts join the event to talk about your QA-related issues and the ways of solving them.
Held on October 10-14, GITEX Global 2022 encompasses 4,000+ influential tech leaders and innovators (Deloitte, Microsoft, Ericsson) to impressive startups from across the globe and features such topics as 5G, 6G, smart cities, cybersecurity, blockchain, fintech, more.
No secret that modern IT systems are rapidly evolving, becoming much more complex. How do we best ensure their high quality while meeting end-user expectations? Let's discover it!
We at a1qa are attending the IT convention to raise awareness of the QA value. You are most welcome to join a1qa's team at booth CC1-22 to talk about your QA pain points and get actionable insights into fixing them!
We'll cover various ways to address your challenges related to software testing and how meeting them helps take leading positions in today's fast-growing IT market.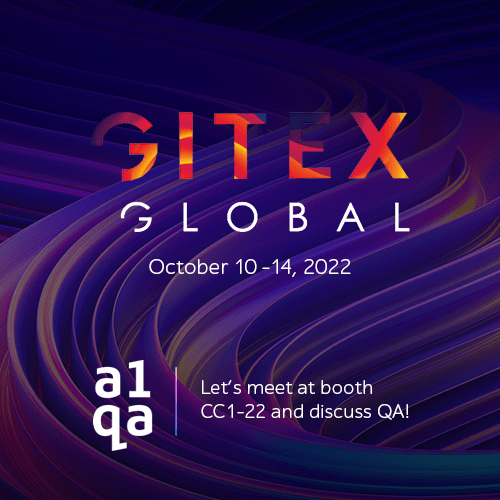 The a1qa team will be staying in Dubai from October 8 to October 19, and we'd be glad to meet you over coffee and answer your questions regarding software quality.
Reach out to a1qa's experts to book a personal consultation in advance.