News
Meet a1qa's team at the QA Global Summit'22 by Geekle!
a1qa's experts are here to host and talk quality at the online conference to help attendees all over the world to get insights into progressive QA strategies.
14 February 2022
One more great Geekle event and one more good old tradition! On 15-16 February, the a1qa team is participating in the QA Global Summit'22 to speak about continuous testing and moderate Geekle's sessions.
The online tech conference unites experts from eBay, Facebook, AWS, and other global companies to share professional knowledge on next-gen testing, AI and ML in test automation, Agile and DevOps solutions, QA in 2022, and many more.
On 16 February at 5:55 PM UTC, Alex Tihonovich, a1qa's QA solution advisor, is delivering the speech on "Continuous testing: secret agent of driving software success" — implementing continuous testing with no pain, mitigating business risks while reducing efforts, dividing the project into smaller pieces to efficiently work with isolated features.
QA solution advisors at a1qa, Anna Malashenka and Pavel Polyarush, are joining the event to moderate junior and senior tracks with attendees talking about QA approaches that help boost IT solutions quality.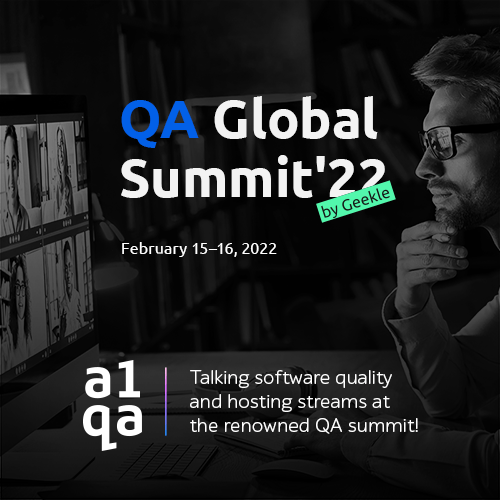 You are welcome to join us at the event and come and listen about the 007 Agent for your business!
Last year, the a1qa team, including the Head of global business development Dima Tish, Head of quality architects team Kate Bazyleva, and many more, moderated the sessions during QA Global Summit'21 by Geekle as well as hosted and spoke on "QA for IIoT: Maintaining high efficiency of smart factories within Industry 4.0" at QA Global Summit'21 Volume 2 by Geekle.
In case you need a consultation on introducing continuous testing to improve your IT products quality, feel free to turn to a1qa's specialists.