News
Next-gen QA services: a1qa updated the website structure
The company has reorganized the website logic and introduced new next-generation QA services pages.
20 May 2020
With adherence to the internal culture of excellence, a1qa has reconsidered the website structure to make it more convenient for its clients. By adding some new next-gen QA services pages, we provide a fresh look at our vision of full-fledged QA offerings package.
Earlier, the website logic implied two sections of complex services and exact software testing types. The revamped structure includes an updated menu list and set of services being grouped into four subsections: full-cycle testing services, complete test coverage, quality engineering, systems & platforms.
They include software testing types being an essential part of any QA process, e.g. regression testing, managed QA services helping you concentrate on your core business goals while delegating the QA function to a1qa, and more.
In the reorganized website structure, you can also find some recently formed offerings focusing on the latest technologies as ensuring flawless work of AR & VR software, providing accurate quality checks of IoT solutions, and more.
"We are pleased to announce an updated structure on our website. These modifications are connected to a1qa expertise in relevance to the changes in the current market, and the revamped logic of presenting the QA services line fully reflects our vision," said Dmitry Tishchenko, CMO at a1qa.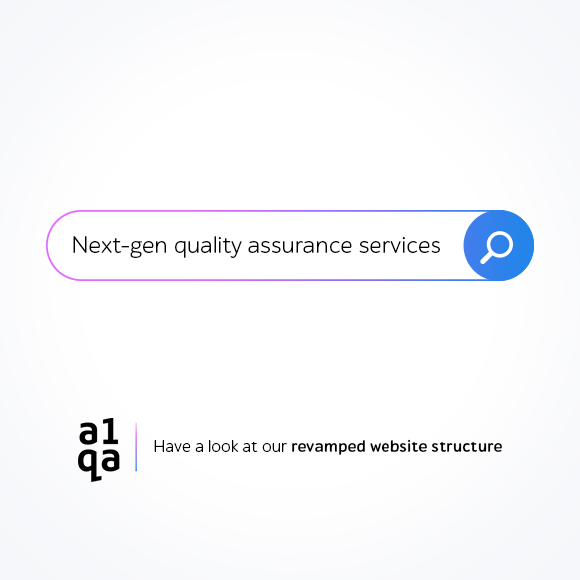 Welcome to walk through the reformed website structure and get more about the ways to enhance your software quality. Please contact us if you need an expert piece of advice from the a1qa professionals.