News
a1qa at the Global SAFe Summit 2020: be ready for the future
a1qa's team participates in the next autumn major event to exchange the expertise on Agile adaptation and its further modification.
20 October 2020
Continuing the range of striking autumn events, we are moving towards the next major online conference, the Global SAFe Summit 2020. It occurs on October 27-28 and connects people, ideas, and solutions to help embrace the SAFe journey and be prepared for future changes. Joining the event, a1qa's representatives are pleased to exchange expertise on successful Agile implementation and testing.
The two-day summit encompasses years of best practices in SAFe adaptation. It is currently of high value for businesses striving to manage uncertainty in the COVID-19 era where novel strategies are a must to adapt at speed.
a1qa's experts are glad to seize an opportunity to talk about testing and transformation, share success stories, and provide insights into overcoming roadblocks through Agile.
Assembling seasoned agility practitioners and exceptional thought leaders, the conference walks through the latest Agile trends in product delivery, business processes organization, large transformation programs, and many more. Leveraging instructive discussions and how-to sessions, the attendees will expand knowledge and skills of Agile adaptation and its further modification.
CMO at a1qa, Dmitry Tishchenko, commented on this point:
"I believe every company has faced challenges within the crisis at one extent or another. Today, more than ever, it is vital to adjust to the market requirements within an entire organization, not just within a team.
SAFe is precisely one of those tactics helping companies reach tangible results — from shifting new markets with products tailored to face a global challenge to embarking on a digital transformation journey with confidence."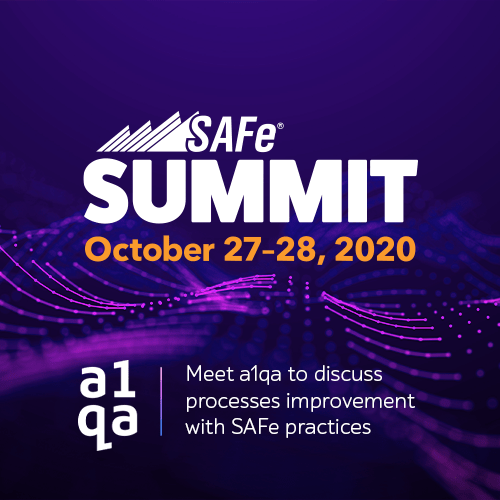 Need help in carrying out the SAFe transformation journey? Get hold of us, and we will arrange an online meeting with a1qa's experts.