News
Web Summit 2020: a1qa is among attendees
a1qa's team participates in a global event redefining the world tech market, acquires expertise on novel technologies, and exchanges insights on next-gen QA.
19 November 2020
Future is already here. Keeping in touch with the time, a1qa takes part in the Web Summit 2020, the largest technology conference. The event is held on December 2-4 and assembles people, ideas, and companies to bring novel initiatives to life. We are glad to be amid the summit's guests and provide the audience with innovative ways of solving business-crucial challenges through next-gen QA and software testing. Moreover, we will harness an opportunity to broaden our arsenal of working IT solutions.
For three days, renowned speakers from global companies across multiple domains will share actionable insights on 30+ topics covering multiple industries touched by tech, namely eCommerce, eHealth, telco, fintech, robotics, automotive, and many more. Within a colossal shift in the market, the members will explore the solutions, tools, and ideas the world's influencing companies are bringing to the table.
Leveraging mobile and web apps exclusively developed for the conference, one gets access to the summit's relevant content. Alongside connecting to tailored sessions, it's possible to search for other attendees, expand the network, and exchange the experience.
a1qa's team will be pleased to discuss any QA-related issues and provide expert advice during the event. Alex Pechinsky, a QA consulting group expert and pre-sales manager at a1qa, shared his opinion:
"It's a great opportunity to participate in such a remarkable IT event as the Web Summit 2020. Considering new technologies are becoming more and more pervasive, next-gen QA alongside test automation play a pivotal role in attaining business objectives — ensuring timely delivery of upscale software, responding to modern tech market requirements and astonishing end users with novel solutions."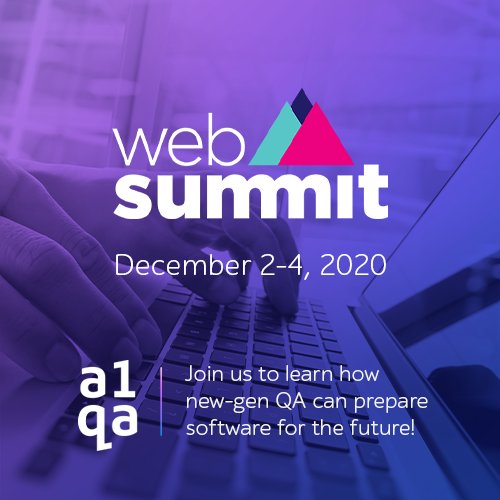 Feel free to register for the summit and have a talk with our specialists to find ways of troubleshooting software issues through innovative QA services.
Reach out to us to arrange a meeting with a1qa's experts in advance.