Blog
Reaching HIPAA compliance for eHealth solutions through QA
We reveal the HIPAA's data safety benchmarks and shed light on how software testing may help in its conformity.
13 January 2021
Recent events hit the healthcare industry and put its gravity above the other ones, and today, we notice companies en masse developing eHealth solutions.
When curing or choosing the "antidote," healthcare employees use personal patients' data more than ever before relying on health condition, previous diseases record, and more. Thus, while developing digital clinical assistants, one should make sure they comply with standards and should guarantee they operate accurately and don't cause any harm.
Amid the most pervasive regulations in healthcare, HIPAA stands out ― The Health Insurance Portability and Accountability Act. Aiming to defend sensitive patients' data, every eHealth solutions developer tends to follow these inviolable safety obligations.
In the article, we bring to notice the HIPAA benchmarks and shed light on the strictly required data security aspects. Furthermore, we appraise how QA and software testing services can help comply with the established norms.
Standards: regard or disregard…
Being among life-threatening industries, healthcare doesn't excuse any errors. Even a minor one can trigger critical consequences for human well-being. Let's say, an unintentional misprint in prescriptions may cause inappropriate treatment or no treatment at all. Inaccurate medical equipment setup can implicitly affect the health state. If not mentioning negative scenarios that may occur when compromising on software quality and not adhering to requirements.
Being a mandatory step of verifying eHealth solutions' functionality before going live, the HIPAA community sets penalties for violation of the regulations. In recent years, alongside a substantial increase in fines, the number of breach cases has also grown. Thus, an average HIPAA's penalty has reached $1.2 million in 2019, and these figures are the norm now.
Shifting to digital document storage and management, information protection is gaining a greater priority. Businesses should implement safety measures, as private data might turn to the object of cyber attacks and inappropriate data usage. HIPAA Journal indicates the number of malicious actions is only soaring within years. In total, 34.9 million Americans had their personal health information (PHI) compromised in 2019.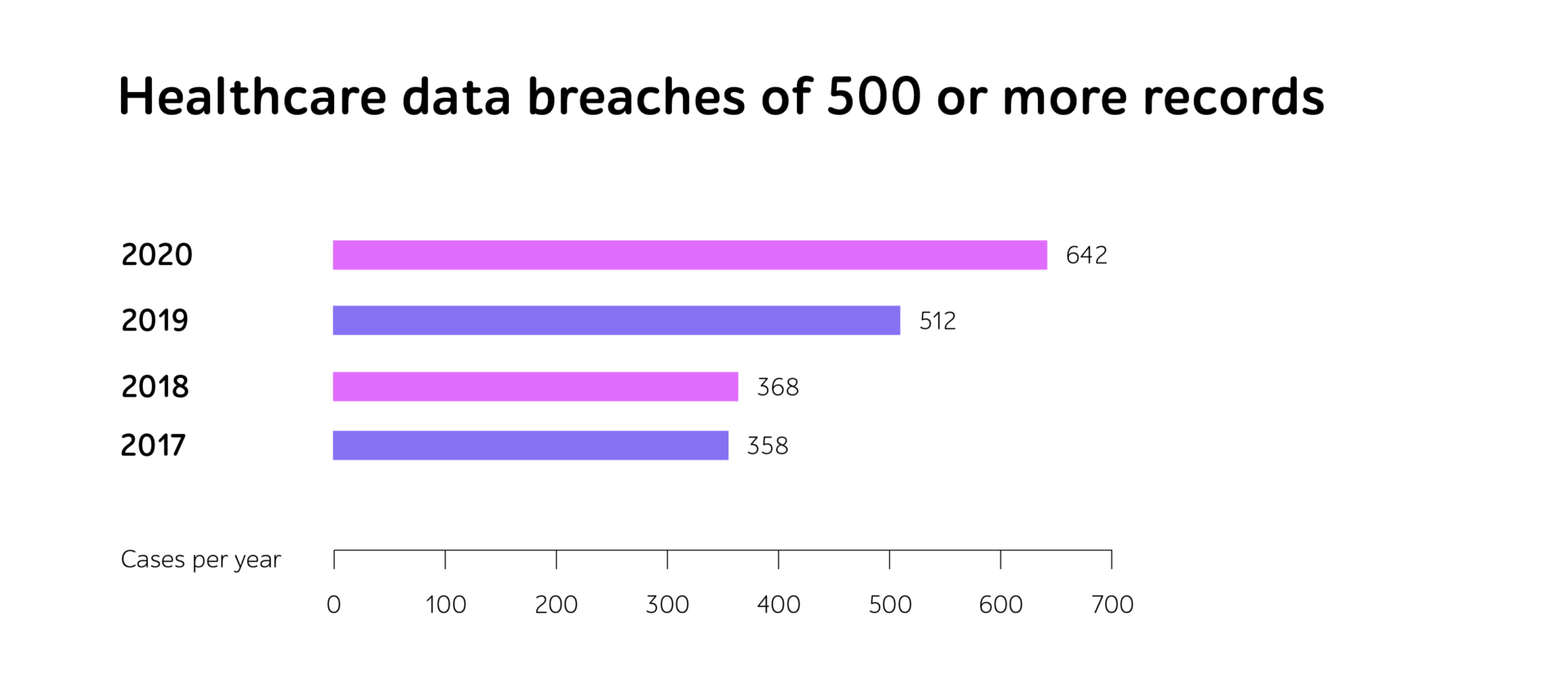 Following three of HIPAA's cornerstones
Within this eHealth law's legal force, every organization and its partners that perform whatever activity over PHI undertake to comply with the Act's requirements. It begs the question, what are those rules eHealth solutions should coincide with?
Despite the norms' intentional vagueness, sensitive information keepers should take the digital, material, and managerial guarantees into work as well as risk evaluation and ways of eliminating information breaches' consequences.
Let's get a more detailed grasp of each HIPAA's basic pillar helping provide PHI integrity and complete privacy.
1. Technical safeguards
Hacking and IT incidents are now the foremost means of a data security violation. Though organizations are now much better trained to expose malicious usage, the number of cyber attacks is only increasing. By 2019, it reached 303 cases in a year.
Intended to protect PHI, digital regulations assume data encryption no matter it transfers within a company, moves outwards an organization´s internal firewall servers, or is kept in storage. Hence, if the data falls into the hands of fraudsters, it won't be able to read, decipher, and harness personal details.
While encryption is becoming a mundane phenomenon, HIPAA proposes such mechanisms of data defense like introducing a powerful access control, establishing activity logs and audit controls, applying PHI authentication, and executing automated sign-outs.
2. Physical safeguards
Moving beyond the online space, organizations should keep all kinds of devices leveraged to access PHI safety. They opt for various scenarios of storing data and have to be well-secured to avert unsolicited information usage. On-premises, cloud, or rented servers ― it's no matter.
So, HIPAA material protection measures include enforcing regulations on the workstations utilization, implementing a robust facility control, and itemizing hardware.
3. Administrative safeguards
One more pivotal aspect of a HIPAA compliance checklist is risk regulations. This area is under the most thorough control, which is held continuously to ascertain the company's holistic and sustained risk management. To meet the norms, HIPAA's specialists recommend carrying out risks evaluation, initiating urgency management and plan, and curbing third-party access.
QA as an accelerator of suiting HIPAA's checklist
The development and digital life of any IT solution are speeding up with years. Due to heavy competition in the market and high users' expectations, companies are to release reliable software at short notice.
As for eHealth products, companies should consider their potential functioning failures with particular emphasis. Quality assurance can be a powerful way to eradicate them, ensure flawless operation, and meet all the safety requirements.
Security testing lays in the heart of getting HIPPA compliance, as the main its purpose is to ensure data privacy and end-user confidence in the application. Penetration testing is the most progressive and topical approach to derive these results. Acting like real hackers, the specialists may identify the bottlenecks in time, so they can decrease chances of cyber incidents.
However, HIPAA compliance is not the only thing that indicates that an eHealth solution operates well and satisfies customers' needs. Noteworthy is looking at the application from various angles to ensure its comprehensive and smooth work. As there's no one-size-fits-all QA strategy for every project, specific business demand and objectives speak volumes about an appropriate QA package.
But companies may choose full-cycle testing, a one-stop QA measure that helps determine the necessary testing types being performed during all the SDLC steps. It can include functional and compatibility testing or mobile and performance testing, or others that suit the project's goals. Thus, one might be confident in the software quality and avert any kinds of defects in the go-live stage.
Taking an example, a1qa's team provided all-embracing QA support, including assistance in HIPAA compliance, to a developer of the wellness portal and mobile apps. In addition to passing HIPAA certification, the QA specialists performed thorough functional and compatibility testing, as well as test automation. Thanks to this, the solution under test successfully underwent the security and privacy control and featured total data protection.
In a nutshell
Within the healthcare industry's gravity, standards compliance has become an integral part of medical software development.
According to HIPAA regulations, any eHealth solution should comprise digital, material, and managerial safeguards as well as its continuous maintenance.
To ensure medical IT products' release and provide them with high quality and complete privacy, businesses should consider software testing as an inalienable SDLC step. Hence, by applying an all-inclusive QA bundle, one can meet desired outcomes and satisfy end-user needs within tight deadlines.
Need support in eHealth software testing? Reach out to us to get a consultation with our QA experts.