Blog
SAFe vs. Scrum, and PI planning essentials
Let's shed some light on the SAFe differences from Scrum that are to be considered by the development and QA teams who have migrated from Scrum.
4 June 2020
Scrum has proven to be a powerful tool for rolling out software products involving up to nine assets comprising the product owner's performance. Seemingly, nine high-end and wisely motivated professionals are capable of anything, what could go wrong? However, in real world, things are rarely that simple.
When software development needs are expanding by leaps and bounds, the number of teams is increasing pro rata. Communication between them and synchronization of group work are jeopardized especially if considering geographically dispersed specialists.
LeSS Huge envisaged by Scrum is applicable for projects with >8 teams only. Otherwise, I recommend cherry-picking SAFe framework.
Founded on the principles declared in the Agile Manifesto, it allows syncing up the work performed by up to 150 specialists. SAFe takes communication to the next level and introduces Program Increment (PI) Planning to promote direct communication between the attendees: software developers, testers, business owners, and program stakeholders. PI Planning is the synchronization point of the Agile Release Train (ART).
Why PI? During the planning session, the teams create the plans for the upcoming Program Increment, which helps them get things done effectively, release more features in less time, and align on project workflows.
How is PI planning organized?
It's better to see something once than hear about it a thousand times. With this saying in mind, I'll share the planning agenda we received attached to the Meeting Request email last month. You'll find the agenda some paragraphs below, while right now, I enlist some of the crucial points of planning.
Prior to planning, the well-elaborated backlog of functional and architectural features is prepared. The results of the planning shall be the commitment of the teams to an agree-to set of objectives for the next PI. All planning takeaways (teams committed to working on any user story, user stories interconnections) are fixed on the program board.
The planning process itself is very fascinating in SAFe and has many teambuilding features.
Let's review some of the major differences our QA consultants have come across.
Organizational issues to be ready for
Duration. Previously, it took us less than four hours to plan up a Scrum sprint. After migrating to SAFe, planning began to last four days almost.
Participants. While applying Scrum, we planned sprints independently from other teams. In SAFe, it's all different. Development, QA, business analysts, UX specialists are to participate in planning cooperatively. If someone can't attend it for some reason, he or she should be available for questions.
Event agenda. In Scrum, most of the time is devoted to estimating user stories. In SAFe, there are many more stages.
Now have a look at the agenda of the Product Increment planning we had last month.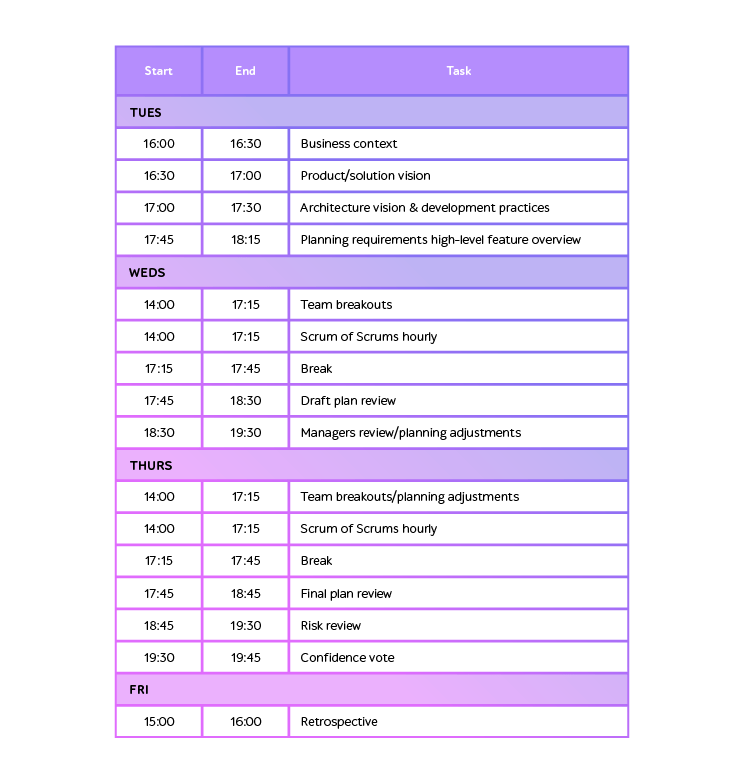 It all starts with the company's governing bodies communicating the business context of the upcoming PI to all teams. After that, the product manager specifies how the business context will be implemented in terms of functional solutions. The architecture shares his/her vision on the product's technical implementation.
When they are done, the floor is yielded to the product owner of every team. He/she briefly presents the scope of requirements for the whole team to be familiar with the features that will be developed by every other team. On that note, the first day of planning is over, and teams say goodbye to each other to meet the following day.
On day two, teams break out to start working on their plans for the upcoming PI. By the end of the day, the draft of the plan should be presented. Managers review those plans and introduce necessary adjustments.
During the third day of planning, teams continue working on their plans to finalize them. Scrum Masters present the plans of their teams and review the risks alongside. The final procedure is a confidence vote. All attendees should confirm their commitment to the final plan objective. Every team conducts a "fist of five" vote. The commitment is accepted if there are three or four fingers on average. If fewer, then plans are reworked.
Noteworthy, any person voting two fingers and fewer should be given a voice to explain their concerns.
Finally, a brief retrospective is conducted to capture what went well and what did not. Following this, the next steps are discussed.
Ways to sync up and visualize the issues
If you were attentive (and I bet you were), you must have noticed one of the points on the agenda I haven't specified yet. Scrum of Scrums hourly. It's an hourly meeting of Scrum Masters that takes place while the teams are estimating the given user stories. The objective here is to sync the teams up.
The new level of visualization. Working with Scrum, we used JIRA to track bugs, assign issues to the responsible specialists. In SAFe, it became very difficult to discuss arising issues with colleagues who are allocated on other continents. Having tried multiple options, we gave our preference to RealTimeBoard – virtual boards that allow us to work with visual content together with our mates.
Stories estimation differences
Estimation methods change from those in Scrum. User stories in SAFe are estimated in story points. This is the relative estimation to compare the difficulty of two or more stories.
Every story is to be estimated in 2-3 minutes. Teams don't need to get into deep discussions but rather provide a general estimation.
If the story is estimated in more than 8 points, it should be broken out in smaller pieces to be implemented on time.
Now in SAFe, we estimate not only our job but also the job of our colleagues from other teams. It gives a better understanding of their contribution and engagement. The question "Why do you need so much time for testing this small feature?" is rarely heard now.
PI planning advantages
With visible changes becoming commonplace, the SAFe framework is one of the means for deriving faster time-to-benefits while increasing productivity, quality, and customer engagement.
PI planning in SAFe is an essential technique for providing better alignment between teams through improved process transparency and well-organized face-to-face communication.
Development on cadence, being the heartbeat of ART, is observed while the future becomes more definite as we are aware of the teams' plans several sprints ahead. Besides, we've gained a better understanding of our mission and the value we add to the product.
To cut a long story short
Our fast-changing world complicated by COVID-19 pandemic requires novel, well-balanced strategies to adapt at the necessary pace. SAFe is precisely one of them.
Wisely configured and applied, it can turn the tide to help you achieve any goal – from shifting new markets with products tailored to face a global challenge to embarking on a digital transformation journey.
All you have to do is just start. a1qa will help you begin and proceed with confidence.