News
a1qa ranked as one of cybersecurity leaders by Clutch
New achievement in place! The independent Clutch platform has revealed a new list, which presented leading companies in the software security area.
26 March 2020
We are hasting to share the new accomplishment of the company! This week, the experts of the independent rating platform Clutch introduced a new list, where they presented the leading companies in the field of cybersecurity. a1qa was recognized as one of the best penetration testing service providers.
In 2020, we see the importance of security testing being taken at the forefront of QA. Hence, we are pleased to take a high place in this reputable study complied by Clutch.
When preparing such rankings, the platform experts thoroughly analyze customers' reviews concerning the work of each company. The leaders of the current list are those IT market players that can demonstrate their rich niche expertise as well as readiness and willingness to address the security-related challenges of the clients.
a1qa is passionately working to continue nurturing its security testing CoE to provide companies with original QA solutions helping solve business challenges and meet planned goals.
CMO at a1qa, Dmitry Tishchenko, said the following:
"We highly appreciate being recognized by the Clutch experts. This rating confirms a1qa's capabilities to our partners and proves our solid dedication to quality. It is also a strong incentive to continue building on our skills and gaining more experience in the area. The pursuit of secure software products is a global trend in the IT industry today, and we are totally committed to help our partners achieve their business goals."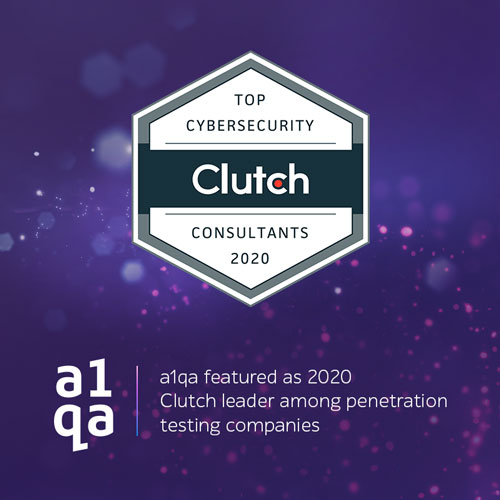 It is not our first achievement in 2020. Earlier, a1qa entered the top 100 leading outsourcing companies from around the world according to the International Association of Outsourcing Professionals (IAOP).
When preparing the international PEAK Matrix® 2020 report, independent experts named a1qa as one of the leading players in the QA services market.
Feel free to consult with our company's QA experts online if you need advice on software quality assurance issues.