News
a1qa entered the all-stars sub-list in the Global Outsourcing 100
We are pleased to share the accomplishment. The company received a high score in each category of the Global Outsourcing all-stars sub-list.
8 June 2020
It's time to conquer new heights. The IAOP (International Association of Outsourcing Professionals) has published an annual list acknowledging 100 leading outsourcing companies. a1qa was recognized in the all-stars sub-list and received high praise on each of the evaluation criteria.
The traditional GO 100 list is one of the most respected in the outsourcing industry compiled by the independent experts who carefully explore companies' success over the past year. This global study involves major international companies divided by groups into Leaders, Advisors, and companies with less than 5,000 employees as Rising Stars. a1qa was recognized as a Rising Star with 800+ QA professionals on board.
The company also entered the all-stars sub-list and received a high score for achievements in each of the four existing directions:
Top customer references
Top awards & certifications
Top programs for innovation
Top programs for corporate social responsibility.
CMO at a1qa, Dmitry Tishchenko, said the following:
"We are pleased to be presented on the Global Outsourcing 100 list. This wide recognition and high assessment of a1qa work by the world's experts serves a proof of our professionalism and provides us with a strong incentive for further development."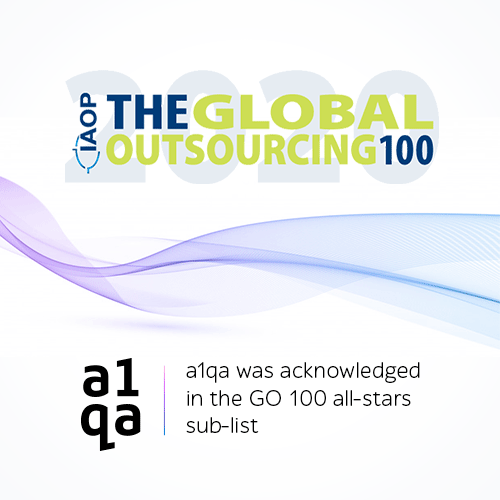 You can also view the full list of outsourcing leaders in the special issue of FORTUNE® magazine.
In 2020, the company was recognized as a leader in cybersecurity testing, according to Clutch experts. a1qa also became one of the major players in the QA market pursuant to the results of the international PEAK Matrix® 2020 report.
You can get expert advice on software quality issues from the a1qa team online.