News
a1qa hit the 2022 Global Outsourcing 100
The Global Outsourcing 100 list for 2022 is ready! This year, a1qa hit one of the hundred positions yet again.
30 May 2022
In 2022, judges from the International Association of Outsourcing Professionals (IAOP) recognized the accomplishments of a1qa and included it in the fresh Global Outsourcing 100 (GO100) list.
The IAOP awards program highlights the best outsourcing services suppliers across the globe — from small to large businesses. With independent review of the companies' growth and achievements, IAOP members compiled an annual listing of the most prominent vendors — all done based on several categories.
By bringing true value to clients and helping them achieve desired business and operational benefits, a1qa made it to the Top Customer References sub-list. Also, a1qa entered two more of them: Awards and Certifications (by receiving recognition for global excellence, including QA area) and Top Programs for Corporate Social Responsibility (addressing the welfare of all employees, customers, governance, ethics, community, and environment).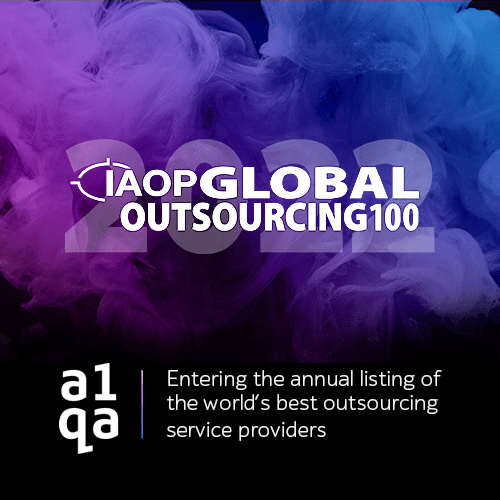 In 2020 and 2021, the IAOP experts have also acknowledged a1qa success in The Global Outsourcing 100 listings.
In case you need professional QA support, don't hesitate to reach out to a1qa's specialists.