News
Win a QA consultation during a1qa's raffle at MWC Barcelona 2023!
If you are coming to the MWC Barcelona, how about participating in a1qa's raffle to win a tailored QA consultation? Just read the news and explore more.
22 February 2023
At MWC Barcelona 2023, we're holding a raffle for top and middle management. You can win 2 one-hour consultations with an a1qa solution advisor to discuss pressing issues that you have with your software quality!
If you have at least one "yes" to the questions below, then we strongly advise you to participate.
1. Are you at the beginning of your QA journey, having no QA professionals in this field, or do you want to make sure that you're on the right track?
2. Do your end users complain about system bugs and give you low ratings?
3. Is each release a true nightmare?
4. Do you have a goal to accelerate time to market?
5. When selecting a toolset for test automation, do you get lost in the variety?
6. Do you have a goal to optimize QA costs?
7. Do you agree there's never enough time for regression tests?
8. Do you prepare for an important launch or marketing campaign and are not sure the software is ready for it?
9. Is the quality of the QA team's work decreasing, and you don't know how to improve it?
10. Do you face difficulties in communicating and/or synchronizing with a distributed QA team?
11. Are you still in doubt about whether you need QA consulting? (Well, if the answer is "yes," you probably need it).
a1qa's multi-year solution advisor will help you:
Analyze your IT solution pain points.
Identify the reasons for them to appear.
Get valuable recommendations on how to eliminate them.
As a result, you'll able to boost the quality of your IT product and meet those business needs you're aimed at.
So, how to participate in our raffle?
During 27 February – 2 March, come to our booth 1C20, situated in hall 1, and put your business card in a vase. There will be only 3 winners. Please, come to our booth at 1 PM UTC+1 and watch the raffle. In case the winner isn't in place, we'll re-take the business card and select another winner.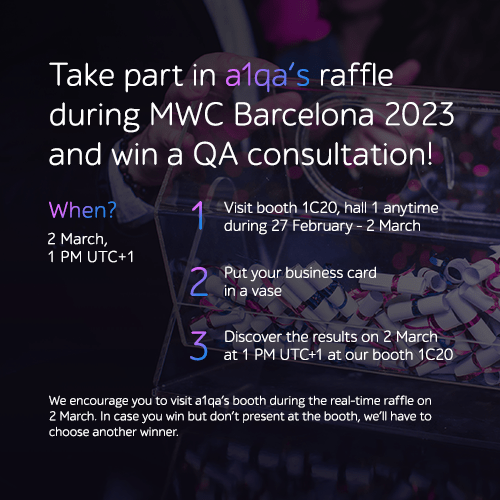 We encourage you to send us the problem description in advance, so we can pick up the most relevant a1qa solution advisor for you. The NDA is signed beforehand if needed.
Welcome to participate in a1qa's raffle!