Blog
a1qa's recognition by GoodFirms: A testament to our expertise
Delve into a1qa's recent acknowledgment by GoodFirms and explore the significance of this accolade in the sphere of software testing.
26 September 2023
A reflection of our core expertise
With 20 years in the software testing market, we have consistently demonstrated our proficiency and deep understanding of QA processes, and commitment to improving the world through improved IT products quality.
Therefore, we are honoured to be recognized by GoodFirms in three pivotal categories: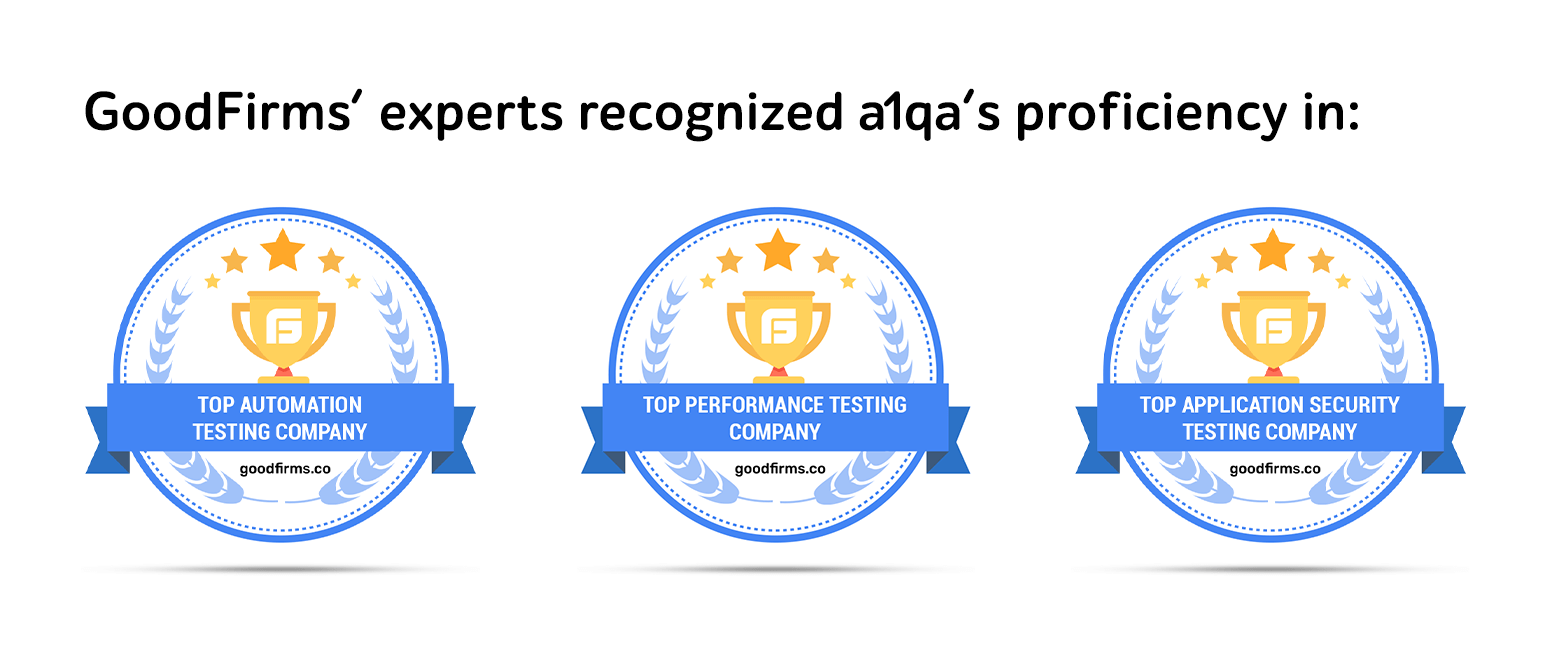 Why is this recognition so significant for us? Let's look into the essence of these testing domains and their importance in today's digital landscape.
The triad of excellence: automation, cybersecurity, and performance testing
Automation testing. In the fast-paced world of software development, automation testing is the linchpin that ensures rapid releases without compromising on quality. It's not just about speed; it's about precision, repeatability, and scalability. For a1qa, automation testing is a cornerstone, enabling us to deliver consistent and efficient results for our clients.
Cybersecurity testing. As cyber threats become increasingly sophisticated, security testing is about ensuring the defences of applications. It's a commitment to safeguarding user data, building trust, and providing business continuity. Our focus on high software protection is a demonstration of our dedication to help create robust and resilient digital solutions.
Performance testing. In an era where user experience is king, performance testing ensures that applications are not just functional but optimized for real-world demands. It's about ensuring failsafe software operation under a high influx of customers, rapid load times, and scalability. Our deep understand of performance testing underscores our mission to delivering software that excels in every scenario.
How we made it to the list
To be recognized by GoodFirms is no small feat. The inclusion criteria are stringent. Companies need to have a genuine online presence, client reviews, and a portfolio. The evaluation is based on three main criteria:
Quality
Reliability
Ability
Before making a final decision, GoodFirms performs market research, checks the authenticity of reviews, and fulfils a thorough evaluation based on the inclusion criteria.
Being acknowledged by GoodFirms is not just an accolade; it's evidence of a company's dedication, professionalism, and ability to consistently deliver top-tier services.
About GoodFirms
GoodFirms stands as a paragon in the B2B research and review domain. It's a platform dedicated to connecting businesses with the best software service providers across the globe. Their rigorous evaluation process, encompassing market presence, client reviews, and overall performance, ensures that their recognitions are both authentic and indicative of industry excellence.
In conclusion
Our recognition by GoodFirms is a testament to our team's hard work, expertise, and commitment to excellence. As we move forward, we remain inspired and motivated, always aiming to set new benchmarks in the realm of QA.
Interested in elevating your products' quality? Reach out to our experts for insights tailored to your business needs.