Blog
QA scenario to introduce 6 eCommerce trends in 2021
Discover what trends will rule the eCommerce industry in 2021 and how QA can help implement them with confidence and ease.
31 March 2021
In 2020, the eCommerce industry has experienced 10 year's growth in 3 months. That is remarkable, isn't it?
Despite this rapid surge, online sellers should be prepared for swift changes in end-user behavior patterns. So, what can companies do to make their businesses thrive in 2021 and beyond?
To answer this question, we've gathered 6 of the most relevant retail trends and QA activities that can help implement them with ease.
6 RETAIL TRENDS TO CONSIDER IN 2021
Within the growing competition, companies keep on implementing novel approaches to sustain business resilience and outperform their competitors. This is where market players include the following trends in their IT strategies to be one step ahead. Let's have a closer look.
Trend 1. Combining offline and online spaces
New buyer's habits make the phenomenon of "bricks and clicks" more widespread. It assumes that retailers apply diverse selling means ― in-store, through the website, or using social media.
As the pandemic is tending to a recession, consumers may need offline places as well where they can enjoy making purchases in person. With that, Rotageek's survey showcases that 79% of customers are still purchasing groceries in brick-and-mortar stores. So, companies should provide a flawless customer experience (CX) and make sure users have convenient and hassle-free shopping, whether it occurs via an offline or virtual space.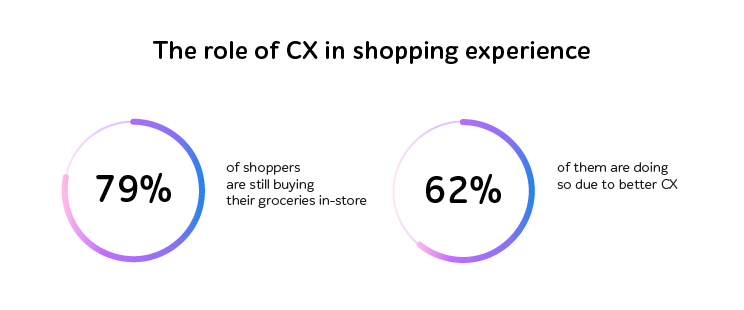 Source: Rotageek shopper survey 2020
Trend 2. Customization to boost CX
The ability to adapt to sharp changes in end-user behavior has already been taken for granted. eCommerce players should pay special attention to personalization. Alongside targeted offers, they may cover the whole shopping journey, which includes tailored recommendations, customized interactions with the stores, suitable payment methods, and much more.
By introducing individualization to a greater extent, one may reduce marketing and sales costs, increase customer satisfaction rates, improve sales conversion rates, and boost employee engagement.
Trend 3. Portable purchasing
Considering the rise of mobile apps and the consistently expanding number of mobile users, the term eCommerce can theoretically be converted into mCommerce soon enough within the potential to become a major selling channel.
Why? That's to be determined, but for now, a great volume of people's purchase decisions is influenced by exploring extra information on a product or service via a mobile device. And these figures are steadily growing with years.
Trend 4. Expanding marketing horizons with social media
Social networks have already become an environment for brand building and promotion. Converting to an all-embracing marketing tool, social media enables expanding target audiences, obtaining direct feedback, and creating a business strategy based on the statistics all in one place.
Trend 5. AI as a personal shop assistant
Being a useful tool for facilitating forecasting and pricing, now, AI can help meet customers' needs. AI-based analytics allow companies to rearrange their stocks by promptly suiting buyers' preferences while enticing more store visitors.
Within escalating accuracy, AI-powered robots that perform work at the warehouses may get the upper hand when it comes to getting products to the shop floor and converting them into sellers bringing value both to businesses and buyers.
Trend 6. Shopping over voice commands
Smart speakers have already become a common means of surfing the Internet. So, companies should rapidly absorb a new fashion of shopping and provide advanced features.
For instance, by applying voice recognition technology, they can deliver exceptional IT solutions while increasing customer loyalty with novel shopping experiences.
QA SUPPORT: 5 STEPS TO SEAMLESSLY IMPLEMENT TRENDS
Introducing retail trends into an IT strategy is simply not enough. Companies should also care about an appropriate level of quality, as the World Quality Report (WQR) 2020-2021 proves its growing significance throughout the whole IT product life cycle.
This is where retailers rely on support of software quality assurance to boost customer experience while attaining operational and business benefits. Below, you can check out five QA steps that we've highlighted to launch trends smoothly.
Step 1. Leverage proactive approaches to increase project's effectiveness
Being an omnipresent approach to managing software development processes, Agile is continually evolving and generating novel practices.
For instance, 52% of the WQR respondents harness the shift-left approach and introduce QA from the very start of their IT projects while dodging expensive bug fixing after the go-live stage and at the same time optimizing QA processes.
So, by adding a progressive approach to a QA strategy, one may reinforce software testing activities and enhance overall efficiency on the project.
Step 2. Implement test automation to accelerate software delivery
Within rigorous competition in the retail market and continuous deployment of new applications, businesses should shorten the SDLC stages and release faster without compromising the software quality.
By applying test automation, one may achieve these objectives as well as provide rapid and frequent releases, improve the transparency of QA processes, lessen QA expenses, and much more.
However, it needs to be introduced wisely, otherwise, an improper approach to implementing test automation may cause problems with environment stability and getting ROI.
Step 3. Include next-gen QA to get confident in business resilience
Total computerization triggers ubiquitous embarking on innovations while enhancing organizational performance and cutting operational costs, and cloud computing can assist in reaching planned outcomes at short notice and keeping supremacy in the market due to their effectiveness and progressiveness.
Step 4. Execute security testing to ensure users' privacy
The thing online buyers strive for is the certitude in the confidentiality of personal information. As the volume of sensitive data is drastically increasing, penetration testing can help promptly identify any system bottlenecks and prevent malicious usage of an application at the go-live stage.
Step 5. Empower QA culture
Having become an inevitable part of the SDLC, QA needs to be consistently improved to keep up with the rapidly evolving IT market. Companies still face challenges to adopt the right tools and technologies as well as advanced training and mastering novel models and approaches.
So, for 2021, businesses should replace the focus on building a stronger QA community while revising teams' mindset with greater care of software quality.
SUMMING UP
Following "brick and clicks," introducing AI- and voice-based solutions, promoting mobile and social media shopping ― all these trends can help eCommerce businesses meet the prime objective — consumers' satisfaction.
For that, companies should deliver high-quality software. By strengthening the QA culture while including innovations and test automation into a QA strategy, organizations may sustain the leadership in the market, derive business and operational benefits, and delight end users.
Reach out to a1qa's experts to get professional QA assistance to enhance your eCommerce software quality.