News
Eventful May: let's meet in both Canada and the USA!
Seize the opportunity to plan a meeting with professionals in Toronto and Chicago to learn how we can help you strengthen software quality.
15 May 2019
This May has been fruitful in terms of business cooperation and networking – a1qa has conducted the first two complimentary workshops for executives in Lisbon and is preparing to visit NSTC and Collision to foster innovations and convey the relevance of software testing to growth hacking.
And now we are proceeding with individual meetings on delivering high-quality solutions!
The a1qa expert team together with the company's USO Managing Director Nadya Knysh and CMO Dmitry Tishchenko will be moving around Toronto, Canada throughout May 20-27 and then Chicago, the USA for the week starting from May 27 ready to provide broad expertise to all your quality-related issues.
Tailored QA solutions constitute the basis for ensuring that your customers receive robust and secure software able to stand the test of time and demonstrate excellence in every aspect of the functioning system.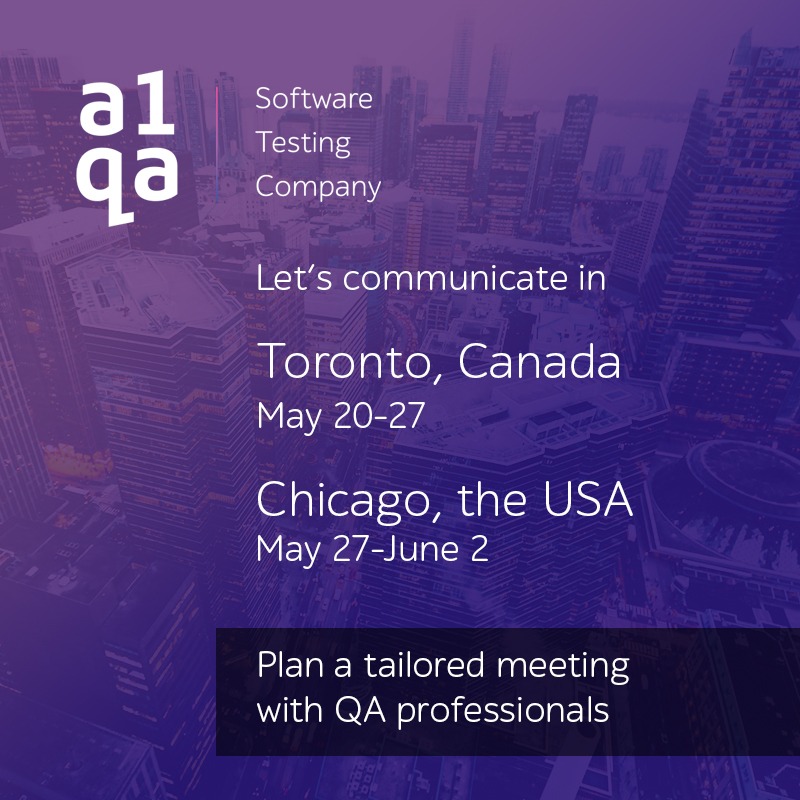 With more than 15 years of experience in SQA business, a1qa knows how to effectively develop the apt approaches customized for each particular client.
The a1qa representatives will be glad to talk to you within a series of face-to-face meetings and answer all the questions to help you deliver solutions able to gain your end-users' trust and, thus, boost sales considerably.
To book an obligation-free meeting with the a1qa team, text us at start@a1qa.com.
See you soon!