Blog
Top 10 a1qa's best blog posts of 2021
Which a1qa's blog posts were the most popular in 2021? Find out in the article.
29 April 2022
2021 was a challenging year: constantly looking for ways to painlessly pass the digital transformation programs, grow businesses, and enhance software quality. All in the "next normal" times.
Let's take a look at the most-read a1qa's blog posts of 2021, which, we hope, helped delve deep into the value of QA for business and pass the challenges with ease.
Always in demand: topical trends blogs
Stepping into the future: QA and software testing trends to thrive in 2022
To help companies effectively fine-tune QA processes in 2022 and meet quality gates in the "next normal" era, we've analyzed the latest World Quality Report's trends and provided some comments on 5 of them: keeping on implementing Agile, DevOps, quality engineering, AI, automating smartly, and customizing test data/environment management based on the global context.
QA scenario to introduce 6 eCommerce trends in 2021
Reflexing on last year's trends? The next blog post covers 6 of those most relevant for eCommerce companies, including developing online and offline spaces, adopting AI as a personal shop assistant, increasing brand awareness through social networks, etc.
Introducing any retail trends into an IT strategy with ease is the task of quality assurance. Here, you may read about 5 basic steps to smoothly implement eCommerce trends starting from adopting test automation to accelerate software delivery, introducing Agile, shift-left to increase the project's effectiveness, and empowering a stronger QA culture to take care of software quality.
Watch out for 6 telecom trends and QA tips to implement them
With stable network connectivity as an inevitable part of any IT product and shifted operations to a virtual space, telecom users' habits have changed, and their behavior has become more meticulous. To delight them and strengthen competitive edge, telco companies implement tech trends. Those for 2021 included digitalizing processes and services, applying hyperautomation, implementing 5G networks, distributing edge computing, etc. To make it happen, we suggested relying on 4 QA hints.
6 BFSI trends and how to implement them with QA
The pandemic had a major impact on BFSI, with customers moving massively to online platforms and requiring companies to quickly rethink the ways to revamp their working processes.
For 2021, 6 BFSI trends — transferring to the cloud services, introducing open banking solutions, expanding app's functions with biometrics, and some others — were among the most powerful to respond to the global situation, achieve greater flexibility, and remain competitive in this challenging environment. Explore a four-step QA guide, helping smoothly implement these trends and 2022 trends.
Test automation blogs: faster, better, smarter
How to attain in-sprint test automation to reinforce development processes
In-sprint test automation helps companies speed up repetitive activities, detect bugs in early SDLC stages, simplify iterations, etc. Even though there are some difficulties behind it, including lack of time, required technical skills, and the right tools, here is the ready-made plan to overcome these challenges and introduce in-sprint test automation without pain.
4 key QA activities to solve test automation challenges via AI and ML
Despite all the benefits of automated testing, businesses expect more. More flexibility, higher speed, fewer mistakes, greater coverage. Is there something special for all of these? Adopting AI and ML as an option.
AI- and ML-powered technologies enable intelligent writing of test scripts, provide self-healing functions for QA processes optimization, facilitate automated GUI testing, and help monitor workflows and routine actions automatically.
Click here, and explore more about overcoming test automation difficulties via introducing AI and ML.
Cybersecurity-related blogs: beware of sneaky hackers
Addressing 4 security issues for digital transformation programs
Due to the rapid shift to the new online reality, companies have been busy implementing advanced technologies and cloud solutions. But because of this rush, safety issues were on the back burner, leading to a growing amount of cyberattacks.
According to Statista, passing through digital transformation programs entailed a plethora of issues in 2020, such as difficulty in keeping up with the speed of digital delivery (36%), higher likelihood of cyberthreats (32%), complicated managing of funding and demand (27%), etc.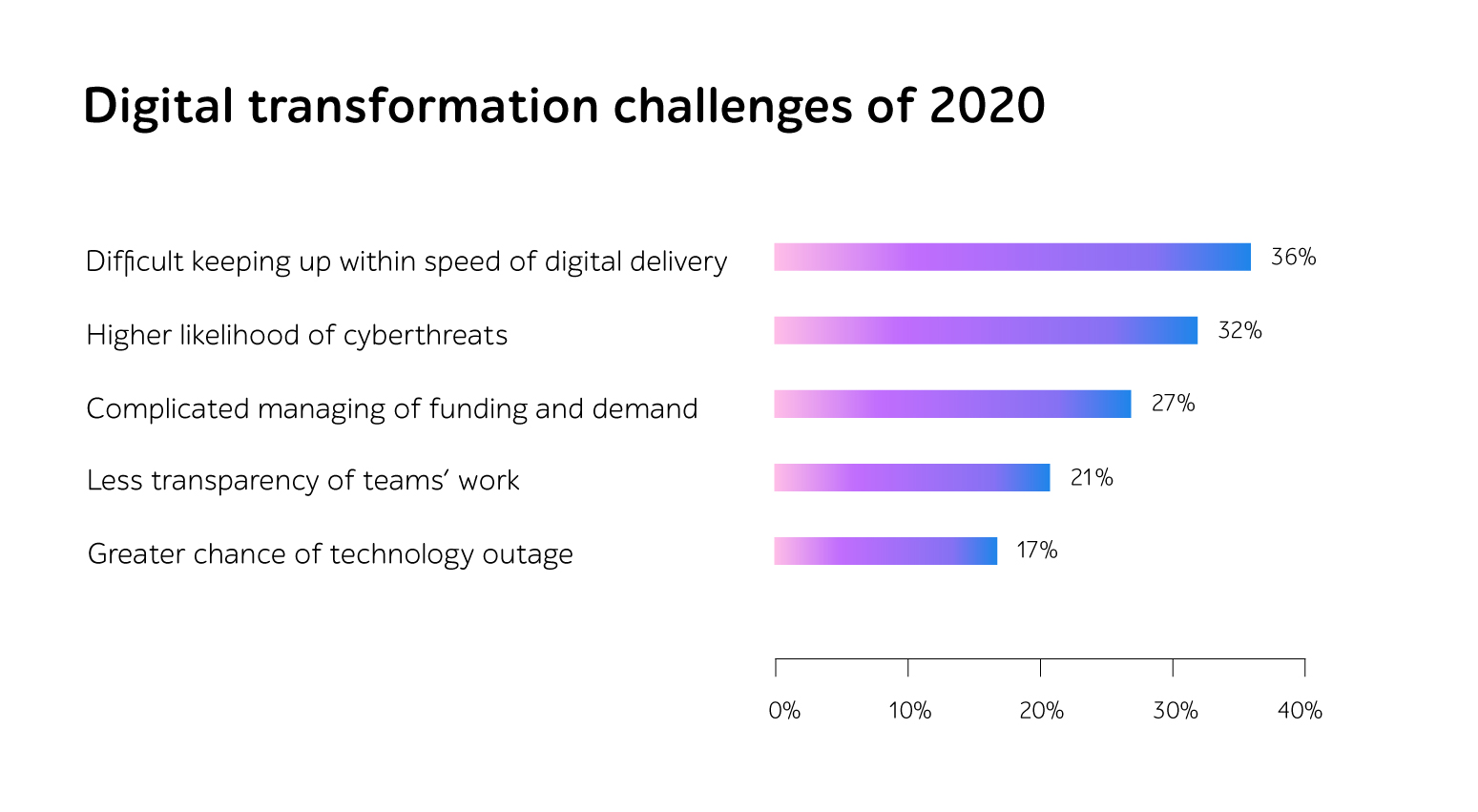 Source: Statista
We see 4 main security problems: tech evolution with the same safety level, sophisticated cyber incidents, overcomplicated cybersecurity standards, lack of the right skilled people.
However, QA is here for safe digitalization, and this article illustrates 3 core activities to do it efficiently. Welcome to reading!
Cybersecurity: Top 5 questions to ask a QA vendor
Cybersecurity comes first. To maintain a high level of IT solutions' protection, companies turn to QA providers.
To ensure truly attack-proof IT products and receive the desired outcomes when relying on a third-party QA vendor, companies should ask business-critical questions, such as "What cybersecurity testing approaches and methodologies do you apply?" or "Do you ensure software compliance with the global safety standards?"
All the questions and their importance are described in this blog post.
How to handle the uncertainty with Agile blog: three-phase game plan
To bring back business resilience, handle COVID-19 consequences, and speed up passing digitalization programs, organizations incorporate Agile-based processes.
Adhering to a three-step plan — implementing Agile values, reaping benefits of flexible methodologies, and applying Agile best practices — helps them painlessly introduce Agile and achieve the expected results. All the details you may discover here.
Blog on 9 QA points for delivering high-quality SaaS-based solutions
What are the reasons to test SaaS-based software? Fast and frequent updates, smart scalability, customizable architecture, and multi-tenancy.
To ensure SaaS-based products failure-free operation, we suggest paying attention to 9 core types of testing: functional (to check that all system's components operate without hitches), performance (to verify that a multi-user environment is able to withstand both the intended and heavy loads), interoperability, usability, cybersecurity, compliance, API, regression, and automated testing.
Such a comprehensive testing approach ensures that all software components are operable and helps produce a truly high-quality SaaS-based product that provides great CX to its end users.
Closing remark
In 2021, the most in-demand a1qa's articles were related to IT trends, test automation, cybersecurity, Agile, and SaaS-based solutions testing.
Thank you for reading our blog posts! In 2022, we will continue to keep you informed of the most popular software testing topics.
Reach out to a1qa's specialists in case you need support on all the above-mentioned issues.