News
2020: recalling the main achievements
Clients' support in unstable times, conferences, international recognition, novel locations. Yes, the year was memorable.
23 December 2020
Despite brisk and sometimes unexpected changes, 2020 has been full of bright events the a1qa's team would like to share with you. Happy reading!
Reacting to the global context
The pandemic had a pivotal impact on many industries, so the concepts of work from home (WFH) and lockdown became pervasive. Companies had to quickly rebuild their business processes and set new goals.
To address a COVID-19 challenge and help clients feel confident despite the uncertainty, a1qa has formed a program to support their corporate policies. This option made it possible to transfer an individual specialist or an entire team to remote work to guarantee business continuity. Looking back now, we may say it was the right decision.
An individual approach and care for delivering value to the clients became the basis for several more tailored programs:
A special offer for startups and other organizations to help roll out working software solutions on time and turn early followers into regular consumers.
Crafted partner programs for companies of any scale to broaden their QA offerings to current customers using a1qa's next-gen QA services.
NFV & SDN testing packages to elevate soundness of networking solutions and ensure their compliance with required standards.
Reassessed approaches to delivering functional and test automation services resulted in the series of available and beneficial PoCs focused on overall quality enhancement and wise automation implementation.
a1qa also shifted all major initiatives to online.
With a special emphasis given to internal educational activities and care of employees' health, the company held a1qa Summer (this year, we named it an "a1qa education week") in a remote mode. Simultaneous development of QA Academy providing online courses greatly assisted in upskilling a1qa's teams' expertise as well.
In terms of external educational sessions, a1qa performed a set of workshops on such sought-after QA topics as test automation role in DevOps or SAP testing, organized various webcasts, for instance, concerning how software testing can become a competitive advantage in 2021.
Contribution to QA sector development
a1qa continued to take an active part in the life of the professional community promoting business and operational values one may derive after leveraging next-gen QA solutions.
To be precise, during the AI Summit and Acronis Global Cyber Summit 2020, a1qa's representative, Alex Pechinsky, talked about supporting innovations and enhancing software quality by applying next-gen QA.
Moreover, due to being involved in such impactful tech conferences like Web Summit 2020 or Collision from Home, a1qa's representatives networked, attended sessions delivered by industry leaders, and grasped actionable insights on the latest trends, best working strategies, solutions, and tools that may be implemented on the projects to meet clients' needs.
Maintaining industry leadership
Due to hard work, diligence, and dedication, a1qa's efforts haven't gone unnoticed by the international experts, whose acknowledgment brought in a number of awards.
It was a pleasure for a1qa to enter Everest Group's Verification and Validation Engineering Services PEAK Matrix® Assessment as a Major Contender among leading companies with high scores in such sectors as market adoption, portfolio, and value delivered to the clients.
An industry-specific British resource softwaretestingnews.co.uk presented a list of the Leading Software Testing Providers with a1qa at the helm offering innovative approaches to quality assurance.
Clutch — the leading B2B ratings and reviews platform — mentioned a1qa twice: it got into the Top 1000 Service Providers list and became one of the most reputable cybersecurity services providers.
In addition, a1qa became a finalist of two world-known awards!
Firstly, one of a1qa's test automation projects got into the final of the European Software Testing Awards sponsored by Deloitte due to the holistic QA approach and value provided to the client — an influential player in the telco market.
Then, The North American Software Testing Awards announced finalists in the category "Best Overall Testing Project — Retail." a1qa got into this list due to delivering value to the client through QA services and commitment to industry best practices and standards.
The International Association of Outsourcing Professionals also appreciated the company's success in introducing innovative solutions and placed it among the best outsourcing companies.
Continuous improvement
Keeping up a good tradition, a1qa has expanded its geographical presence and opened a new office in the UAE to develop partnerships and help businesses deliver upscale software solutions to the market.
What's more, in 2020, the company has optimized its QA offerings and updated a website structure.
It's also a pleasure to mention that the open-source Aquality Automation framework a1qa launched a year ago has been evolving to bring value to the community and solve testing issues significantly optimizing costs.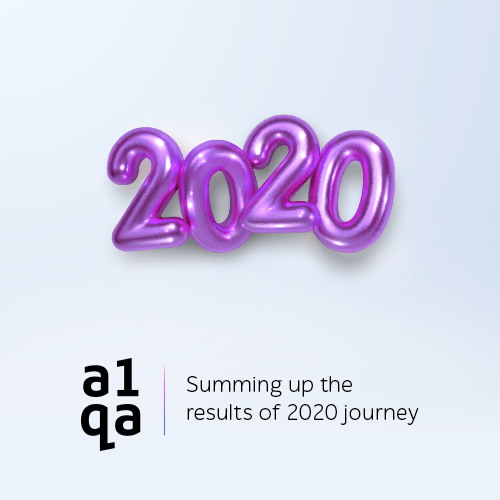 a1qa wants to thank its business partners, colleagues, and friends for being with us throughout this game-changing year!
We wish you a warm and cozy Holiday Season amid your beloved and do hope that 2021 holds success and good fortune in any endeavor you pursue!