News
2021: sharing the highlights of the passing year
Let's recall the main results of 2021 we are proud of.
29 December 2021
One more beautiful year is slowly drawing to a close.
Let's delve deep into the most precious moments of 2021 together, and let's see what we've done to become the better versions of ourselves!
Improving customer experience
This year, we've grown in our presence across the globe covering the parts of the EMEA region to support businesses faster.
Taking special care of our clients, we've also redesigned our corporate website fully matching the brand identity. It helps visitors easily navigate across a1qa's expertise and offerings through a rationalized menu and separate web pages for each service.
Learning, exploring, sharing
Adhering to our mission of disseminating the value of independent QA, we participated in a range of online and offline IT conventions.
We were delighted to visit MWC Barcelona 2021, GITEX Global 2021, MWC Los Angeles 2021, and Web Summit 2021 in offline mode. There, we've learned about telecom trends, listened to inspiring presentations on 5G, IoT, and AI, and helped IT reps get maximum value from QA.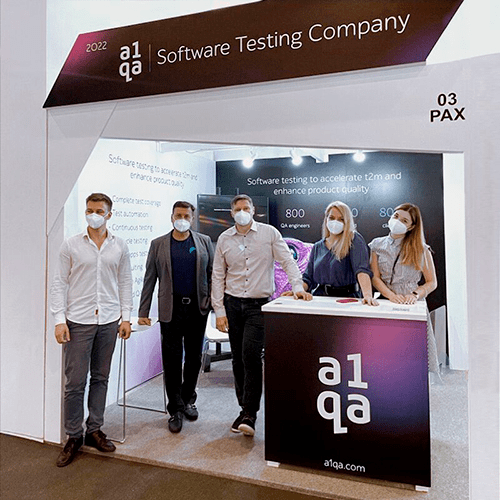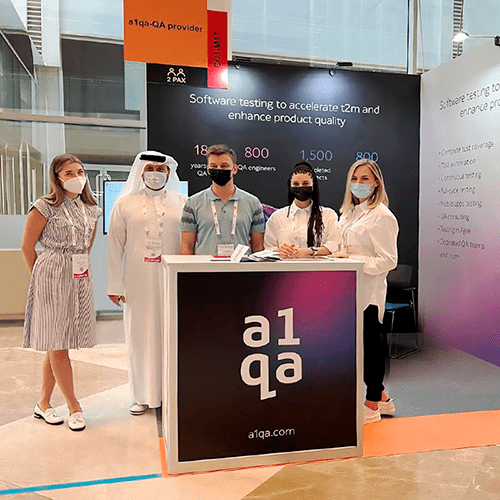 Considering that digital transformation was one of the topical IT issues of 2021, we joined the CIO Digital Summit 2021 and Collision 2021 to discuss industry tendencies that maintain business resilience and address mission-critical challenges during the uncertainty.
Along with participating in IT sessions as attendees, our QA experts moderated QA Global Summit'21 and QA Global Summit'21 Volume 2 by Geekle. The tech conference brought together junior and senior IT peers to talk about QA hurdles and acquire new insights into progressive quality assurance and software testing approaches. During the 2nd summit, a1qa's solution advisor presented on QA for industrial IoT and demonstrated a real-life case of ensuring quality within a smart building, being one of the highly demanded IIoT use examples.
Other engrossing events encompassed virtual roundtables hosted by The BTN together with a1qa — "Future strategies in engineering quality" and "Driving Transformation — Future Strategies in Engineering Quality." We discussed how to wisely integrate manual and automated testing, deliver high-quality software at speed, introduce QA best practices with confidence and ease as well as build the right QA team composition and define the key skills of a QA manager.
In addition to IT conventions, conferences, and sessions, we took part in the SD Times podcast "What the Dev?" where Nadya Knysh, the Managing director at a1qa, North America, touched upon mobile app testing challenges and the ways to address them by applying robust QA strategy.
To assist IT managers, C-level reps, and other industry players in understanding the pivotal role of QA along the SDLC, we continued sharing our multi-year expertise and QA best practices on Forbes, DZone, GoodFirms, Cyber Defense Magazine, TechBeacon, Medium, and other sources.
Our thanks to the IT community
To help businesses rapidly find a trusted QA vendor to cooperate with and let our clients be even more confident in a1qa's services, we continue keeping a robust position in the tech market by receiving worldwide recognition.
Let's take a look at the top lists and awards we've entered this year:
Forrester added a1qa in the ranking "Now Tech: Continuous Automation And Testing (CAT) Services Providers, Q1 2021."
The experts of the International Association of Outsourcing Professionals (IAOP) included a1qa in 2021 Global Outsourcing 100 list in two categories: All Stars and Information/Communications Technology.
The Globee® Business Awards committee recognized a1qa as a GOLD GLOBEE® WINNER in the IT Products & Services for Telecommunications category.
The GSA UK Awards, the accreditation program providing acknowledgement of companies and individuals across the globe, shortlisted a1qa in the Best nearshore team category.
The International Business Excellence Awards 2021 named a1qa the finalist in the Best customer experience category.
The North American Software Testing Awards 2021 pinpointed a1qa to be among the finalists in the Best Test Automation Project (Functional) category.
The Business Brilliance Awards 2021, a program celebrating business achievements of forward-looking companies, announced a1qa the Silver Award Winner in the Brand Brilliance category as well as the finalist in the Brilliance in Customer Service category.
Clutch, an independent and reliable reviews platform, included a1qa in two exclusive rankings: Clutch 1000 and Leaders in the Development and IT Services Spaces 2021.
and more…
We are waiting for 2022 to be full of bright IT events and new achievements. Many thanks to our team for making that all happen – for all the hard work, efforts, and the soul you put into everything you do.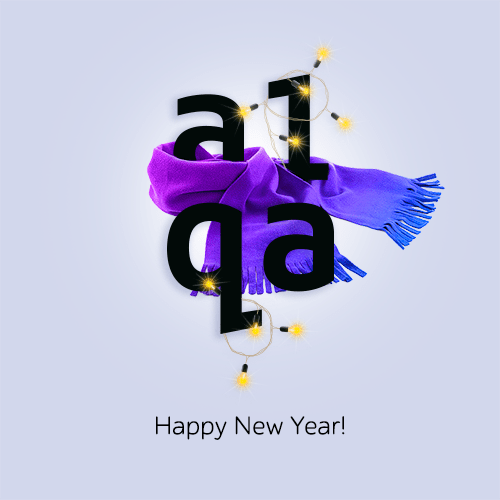 We are grateful to our partners, colleagues, and friends for staying with us throughout this record-breaking year!
We wish you a heart-warming Holiday season. May the upcoming year bring reached business goals and truly caring people!
Yours,
a1qa team